Stock Market Losses???
High Taxes!
Hate Paying Taxes and Losing Money In the Stock Market?
There is a little known IRS strategy that the wealthiest top 10% of American Families, including the top 1% have been using for more than 20 years to cut taxes and preserve capital. A client called the Tax-Free IUL spectacular, a game changer! No downside risk. No more Stock Market Losses.  Tax-free income for life. Plus you earn a reasonable rate of return. He called it "The 401(k) Replacement!"
This retirement strategy is a tax-free pension alternative,  a Tax-Free IUL and also known as living benefit life insurance.
During the Financial Market melt down of 2008 and 2009, when many people saw their IRAs, 401(k)s and mutual funds cut in half, none of our clients lost money due to market volatility in their tax-free pension alternative or tax-free IUL.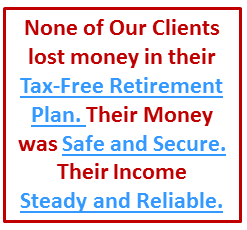 Their money was safe and secure.  Their tax-free income was steady and reliable.
The Tax-Free Pension Alternative, the Tax-Free IUL has been called the Perfect Retirement Solution.
You don't lose money when the markets go down!

Share in Market Upside when Markets go up!

Earn Reasonable Rates of Return!

Gains Locked In Annually!

Tax-Free Penalty Free Withdrawals at any age!

Tax-Free Income You Won't Outlive!
Request a free illustration