Will You Have Enough Money in Retirement or a Retirement Shortfall?  
Will a Tax-Free Solution Help?
Are You Saving Enough? How Risky is Your Retirement? Have You Considered Taxes and Inflation? Will you have a retirement shortfall? You need to know the answers to these questions now, while you can still do something about them, not twenty years from now when it might be too late. You can request a free analysis at https://www.tax-free-retirement-plans.com.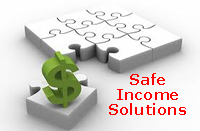 Your money has to last 30 years or more if you retire in your 60s or 70s. Many people run out of money 7 to 10 years into retirement.
• Withdraw too much money in the early years of retirement
• Heavy taxation of retirement plans were not considered
• Risky investments caused big stock market losses.
• Did not save enough
What will you do if your are facing a 20+ year retirement shortfall?  How will you get by?
There are catch up solutions that can work.  Face the issue now while you have time to address it.
The Tax-Free Solution
A tax-free pension alternative also known as living benefit life insurance or the tax-free IUL will solve many of these issues.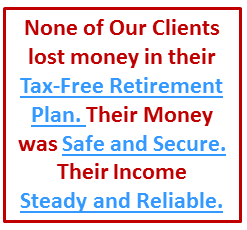 You don't lose money when the markets go down, so you are never digging out of an investment hole!
You Share in Market Upside when Markets go up, up to a cap rate currently 13.5% to 16.0%!
You'll Earn Reasonable Rates of Return!
Your Gains are locked in annually, so you never give back profits already earned!
Tax-Free Penalty Free Withdrawals at any age, the ultimate tax shelter!
You can generate a Tax-Free Income You Won't Outlive!
The Tax-Free Solution is an IRS strategy that the wealthiest top 10% of American Families, including the top 1% have been using for more than 20 years to cut taxes and preserve capital. The Solution works. The tax-free solution has also been known to double, even triple after tax income compared to a 401(k) or 403(b) retirement plan. It has been called the Tax-Free Pension Alternative.
To see how powerful it is request a free illustration and retirement plan comparison.