Choose Discounted Designer Annuities for a Steady Reliable Income Stream Paying More Than Bank CDs and Treasuries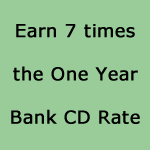 Discounted Designer Annuities provide a steady reliable income you can count on. Many can be purchased for yields 7 times greater than a one year Bank CD.
So if you are stuck in the 1% to 2% world of Bank CDs or the 2% to 3% world of long term Treasuries, you can become unstuck and enjoy the safe income streams offered by these discounted designer annuities. Your money will grow faster and/or you will have more of it to spend with the higher yields offered by our designer annuities.
They are issued by top rated insurance companies, names that you know. Many of these companies have been around for 100 years or longer.
Designer Annuities can be perfect for self-directed IRAs 401(k)s Trust and Custodial Accounts. They can be used to fund charitable pledges for pennies on the dollar and for those seeking current or future income.